When the colleagues hear that the boss is out on vacation…
…and better still, your stubborn client has also gone for team building….
When your colleague lies to the client about something on the status sheet…
When it's after-hours and you receive a call from a client…
When someone tries to throw you under the bus, but you have your shit together…
When you're already under the bus and start preparing for the barrage of venomous emails…
When you and your partner realise that the wrong artwork has been sent to print…
When you're appointed to lead a team of individuals who can never get their shit together…
When someone gives feedback based off of being an asshole instead of being constructive…
When you connect to the projector and see that you forgot to close your pornhub tab…
When someone suggests that there is something that should be altered on my deck…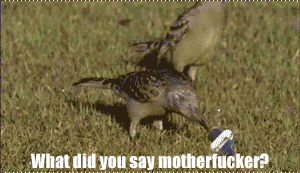 When a colleague calls you on your extension for a muhahe session…
When we are forced to launch a campaign that we know is going absolutely nowhere…
Actual footage of creative review meetings with client…
When your crazy ass boss catches a mistake in the media plan that you had no business making…
Slipping in unnoticed after a long lunch…
When someone who hasn't been on the project rocks up and criticizes the work…
When the client who knows fuck all about media is taken through a plan that has a lot of media math…
When someone who isn't comfortable with presenting is made to do it anyway…
When I was lured into an exciting account without anybody mentioning the work-load…
Live footage of agency over-promising and under-delivering…
When you really bahatishad on a project and it turned out exceedingly well…
Actual footage of your boss trying to avoid the conversation about a raise…
Peeping into a meeting where you know your friends are in real shit….
And that's all for today….